This post may include affiliate links and I may earn commission if you make a purchase through these links.
It's the end of January, and so far, so good. The year has been treating us okay. I'm linking up for 10 Things to Smile About – because, really, I can find at LEAST 10 things to smile about this month (and they weren't all blogged about. That's ok.)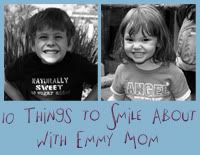 1. I picked up with my boy's monthly posts. He turned 28-months-old at the end of December. Be on the lookout for his 29-month post in a few days!
2. Fitness goals were made. And I signed up for races. (One has since been canceled.) By the end of today, I'm hoping to be signed up for a February race.
3. I committed to completing 12 projects in 12 months. I'm already off to a good start!
4. It snowed and we were able to play in it!
5. I completed my first of 12 craft projects. A no-sew fleece blanket.
6. We have completed another Eat in Month challenge. More on that next week. It's definitely been interesting!
7. I'm still thrilled with my job. I've been in this new role for two months and it still feels weird – but a good weird.
8. Two weeks ago, my two-year-old told me "I. love. you." all without prompting from me. It was the first time he had done that, and it was the best moment.
9. Our weather is supposed to hit the mid-50s today and tomorrow. After many days of negative wind chills, I cannot wait to get outside!
10. I'm trying to get more photos of my family of 3 this year. I snagged this one of us in the snow the other day. (Also, I didn't want to completely leave my husband out of the post.)
Thinking back on the month, what made you smile?