This post may include affiliate links and I may earn commission if you make a purchase through these links.
This shop has been compensated by Collective Bias, Inc. and its advertiser. All opinions are mine alone. #MyLiteracyStory #DGMyStoryEntry #CollectiveBias
When my son was born just over 6 years ago, my husband was working on his Master's degree in reading. I don't remember if he was focused on specific reading strategies before we had kids, but reading was often a topic for discussion while I was pregnant. I even remember packing books in our hospital bag – but forgetting other items that we would probably need. It's important to read to our kids every day and my husband was determined to start this habit on day one.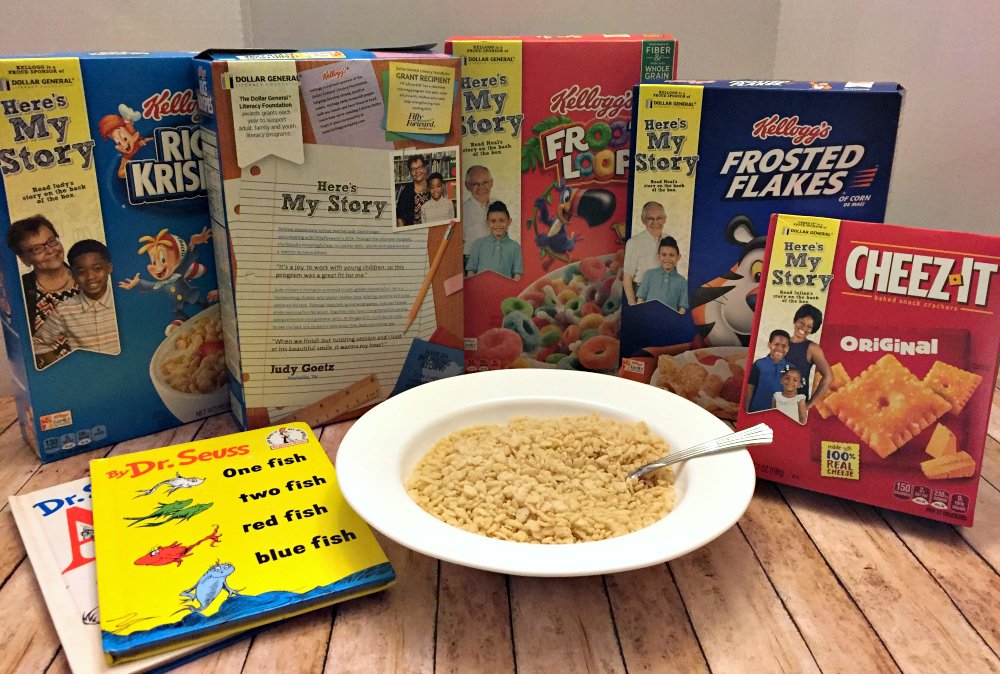 Hover and click on the above image to purchase boxes of Kellogg's® Froot Loops® Cereal, Kellogg's Frosted Flakes® Cereal, Kellogg's Frosted Bite-Size Mini-Wheats® Cereal, Kellogg's Rice Krispies® Cereal and Cheez-It® Original crackers from Dollar General.
Literacy is such an important topic and I'm so happy to see Kellogg's and Dollar General supporting literacy initiatives. Kellogg's is a proud sponsor of the Dollar General Literacy Foundation, which is celebrating over 20 years of helping people learn to read, prepare for their high school equivalency, or learn English. Be sure to visit their site to learn more about this literacy initiative. Since the Foundation began, it has awarded more than $140 million to nonprofit organizations and schools that have helped more than 9 million individuals advance their literacy and basic education skills. What is your literacy story? Enter the #DGMyStory sweepstakes by sharing a photo and tagging it with #DGMyStoryEntry, for a chance to win a $50 Dollar General gift card.
Each box that I purchased shares a story of an individual or family, their struggles with reading and how they overcame those struggles and I've really enjoyed reading the stories and learning more about how the Dollar General Literacy Foundation has been helping people!
My son is 6 and is a fairly strong reader. In fact, we were concerned how he was going to do in school this year – we didn't want him to be bored and cause problems. My daughter is 1 and we are hoping to instill a love of books in her while she's fairly young. (I think it's working.)
My husband and I have done a few things over the years that I think have helped our son.
Start early! It doesn't matter what you read to your baby, just that you're reading to him/her. When my son was an infant, it was not uncommon for my husband to read his grad school books to our son. As he became more aware of words, we changed over to children's books.
Create a library for your child. Our son has quite the collection of books that we were gifted or even purchased second-hand. When our daughter was born, we moved books into her room to create her own "library." And every so often, we switch the books out as our kids get more books or outgrow books. (Many of our books are donated to our children's schools, preschool or daycare.)
Get books that go along with your child's interests. (My son loves dinosaurs, so he had a lot of books geared towards dinosaurs. I've also bought books about the solar system for him. My daughter is big on Sesame Street, so I try to highlight any book with Elmo. She also loves animals, so the touch and feel board books are right up her alley.)
Rhyme! Rhymes are great for learning words. Think Dr. Seuss. Rhymes are fun and easy for children to pick up on.
Make flash cards! Using index cards, make flash cards of sight words and practice with your child. You might even make or purchase alphabet flash cards. My son loves flash cards and making games with the cards.
Make up a song (or sing a classic!) Songs are also fun ways to learn words – and ultimately leads to reading.
Read at least one book a day with your child. At one point my son was requesting more than 20 books a night. Bedtime took FOREVER, and we eventually got him back to 3-5 books. Even now he gets 1 or 2 books at bedtime, in addition to his homework books.
Keep reading to your child. There will come a time that they can read really well, but it's always nice to read to your child. We have started picking books that are far more advanced, but have interesting stories, and reading a chapter each night. That way we're still staying involved even though we know our son is a pretty strong reader. (My son has discovered the Captain Underpants books. While they aren't my favorite, he requests them now and who am I to deny him books?)
Let your child read to others. If you have multiple children and one is a strong reader, encourage that child to read stories to the other child. My son loves reading to my daughter. In turn, she loves listening to her big brother.
Keep encouraging your child. Kids need to be built up, not brought down. Reading can be tough for kids. Keep listening and helping your child and hopefully one day soon your child will be a very strong reader.
I really love board books, and some of my daughter's favorites are The Very Hungry Caterpillar, Who Hoo Are You?, the Touch & Feel Farm and Night-Night, Little Pookie. My son also loved these books, and I'm happy to have passed them along. I'll keep doing whatever it takes to get her to read!
What is your literacy story? Be sure to tag a personal photo and enter the #DGMyStory Sweepstakes with the hashtag #DGMyStoryEntry.