This shop has been compensated by Collective Bias, Inc. and its advertiser. All opinions are mine alone. #PlayWithPlaymobil #CollectiveBias
My son has always had a pretty vivid imagination. He just turned 7, and it's been interesting to watch him over the past year to see how his playtime and interests have shifted. If there's one thing I don't want to see it's a decrease in his imagination – and the amount of time he spends playing with toys. We recently bought the PLAYMOBIL Hidden Temple with T-Rex for him and it's been so fun seeing what he can come up with!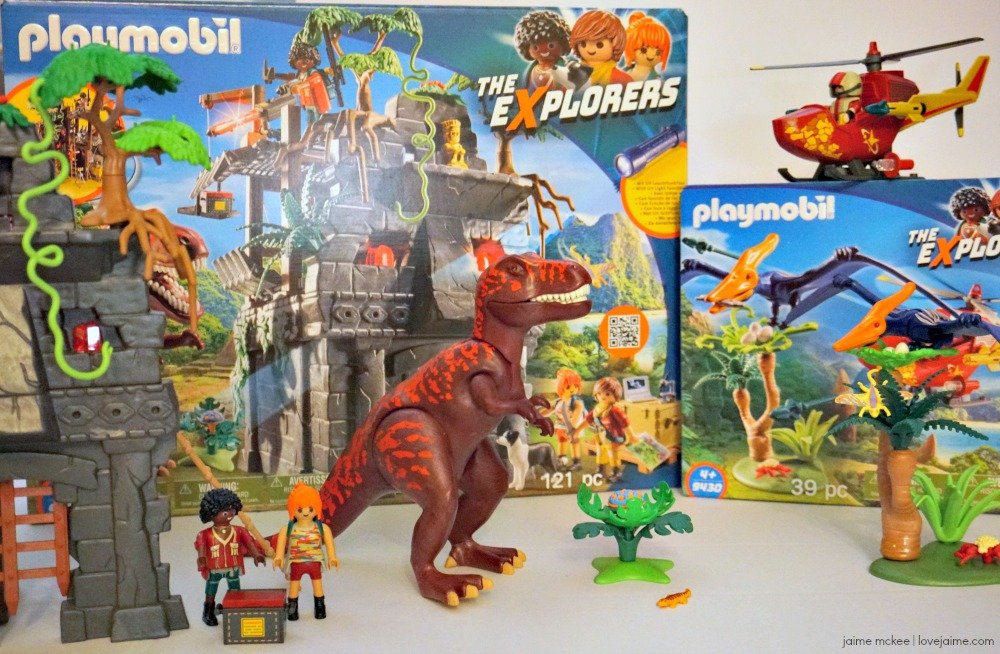 Interested in buying this product? Hover over the photo to click through to Walmart to shop!
Dinosaurs have been a huge part of his childhood and I remember my brother having dinosaur toys when we were growing up. My boy knows the names to so many and just loves learning about them. I hope he never feels like he's too old for a good dinosaur toy!
Ways to Encourage Your Child's Imagination
Play with him! My son definitely values the time when my husband and I are playing with him, and this play set has so many different parts – and the possibilities of a dinosaur-story are endless! In addition to the PLAYMOBIL Hidden Temple with T-Rex set, I bought the PLAYMOBIL Explorers Adventure Copter with Pterodactyl set. There are dinosaurs and people to go around so more than one person can play. He has a Tyrannosaurus Rex and a Pterodactyl, plus four people with all of their various accessories. The taller set has a tower to climb, a gate that opens and closes, plants all around and and even pieces that light up (and toys that light up are so. much. fun!)
Encourage story telling. Let your child make up stories and go along with them without overtaking the story. Let your child lead the way. What I'm loving about the PLAYMOBIL Explorers sets is the accessories that come with each set. There is so much detail, and my son loves all of the options. From the binoculars to the camera to a laptop and the chest of explosives, there are so many things for him to talk about and investigate. The PLAYMOBIL set with T-Rex also has a cool light that makes pieces glow.
Ask questions – and answer questions. My son asks a LOT of questions, but he also retains a lot of information. He has loved dinosaurs for many years and has several books on them and only occasionally does he not ask questions about dinosaurs, because he thinks he knows everything. So I have to ask him. And if I don't know the answer to something, we'll search for the answer together. He can tell you how fast a dinosaur is or whether it is a plant or meat-eater. His knowledge on this topic is impressive.
While PLAYMOBIL has been around for a really long time, these toys are actually new to Walmart! I felt pretty fortunate to even find the two dinosaur sets on my recent visit. My son agrees. He's been so excited about playing with these toys after school the past couple of weeks!
What is your child playing with these days? Ready to be inspired? PLAYMOBIL has you covered!