This post may include affiliate links and I may earn commission if you make a purchase through these links.
Aw, yeah. It's Friday. And I'm too tired to come up with a really coherent, thoughtful blog post. So it's time for FRIDAY 5!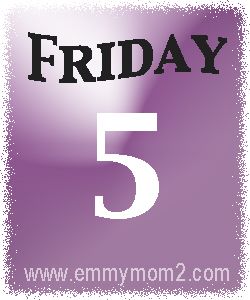 1. Last weekend took so much out of my boy that at 8 a.m. on Monday, my husband had to wake the toddler (he has to be at daycare by 9 a.m.) We must exercise our toddler a LOT. He routinely wakes between 6:30 and 7, which is quite annoying on the weekends!
2. I have been terrible about keeping up with laundry lately. Last night, I had roughly 4 loads of unfolded laundry on my bed. It's sad. And I hate folding it. I threw it on the bed because I HAVE to fold it before I get into my bed. I think I may have gotten through half of it, and I left the other half in a basket in the living room floor. Am I the only one who refuses to fold laundry straight out of the dryer? (I think my real issue is that I am usually putting clothes into the dryer right before I go to bed.)
3. Our summer schedules are out. of. control. At one point, the husband and I aren't even home together – we'll be in Atlanta together for one night. We do have an out of town, several day vacation planned next month. I'm looking forward to it. But trying to make plans with local friends is kind of a nightmare. (Sorry, friends. We'll catch up in August.)
4. I really haven't worked out since my half marathon. I mean, the Monday following my race I did try to do the elliptical, but nothing really since then. I've slacked way off. I have GOT to get back in the swing of things. I'm hoping I can get back in a routine this weekend. (I'm also checking out Amazon Prime to figure out what I can do during my travels if my hotel gyms aren't up to par.)
5. So, way back in the day (think my 7th and 8th grade years), I attended a summer camp in New York. (I live in North Carolina.) I had a great group of friends back then. We all wrote letters throughout the school years, and at some point in high school I wasn't traveling to NY over the summer, so our letters slowed down before they finally stopped. I had somewhat reconnected with one of my friends, Amy, during college. (Long before Facebook was around.) And then we lost contact again. Yesterday, I was thinking about her and thanks to the power of Google and some Facebook connections, I found a few of her relatives and we have now reconnected over email! (She is not on FB, as far as I can see.) Hooray for Google and technology for bringing friendships back together!
And now five photos…all from my phone.
How was your week? Do you have any long lost connection stories to share?