This post may include affiliate links and I may earn commission if you make a purchase through these links.
This has been a fast/long week. I'm so ready to get on with Friday (because it means I can head home tomorrow!) I'm joining up for Friday 5 again!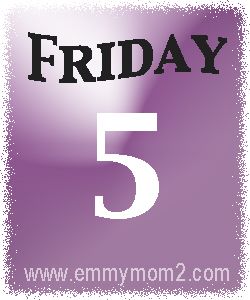 1. I used to travel to Atlanta often. It's a 4 hour drive from Asheville (roughly) and I drove to the ATL for concerts and to visit friends. It had been years since I had been back to Atlanta, and then I went in September for the Type-A conference. I found myself there again in April for work, and I'm in Atlanta, once again, for work this week. I'll be back in September (for Type-A.) It's fun reconnecting with the city! (Traffic is awful. We parked our car and I've been walking/running everywhere.)
2. The hotel has a Stay Fit Card that has a map of a safe running route. I noticed the hotel I stayed in last September had a similar card (so I asked if this hotel had one.) I love this concept and I think Asheville hotels could really benefit from something like this. It's amazing – and a great way to check out a city in a safe(r) manner. I felt comfortable on the route that they suggested and I didn't get lost. That's quite an accomplishment for a girl who is as directionally challenged as myself.
3. We visited the NC Zoo last weekend. It was such a busy time, and I'm so glad we got to go. I blogged about the trip yesterday. Have you seen all of the photos? 🙂
4. My son is going through a phase of not wanting his picture taken. It's so bad that last weekend, he threw a fit while I was holding him. He threw himself back, nailed me in the face and caused me to bleed. I do not know how to get him through this phase and it's getting annoying (and painful.) All recent photos were taken when he wasn't paying attention. Or they caused a meltdown. It's terrible. (Also, it's real life. Things are not always picture-perfect over here.)
5. I think I'll be revising my bucket list in the next few days. I'm not eliminating anything, but there are items I left off. (How could I do that??) In looking at our calendar, we have 3 weekends that are unplanned through mid-August. That's a little intense, especially considering we have been so busy in June as well. I know our son is having a blast, but last Sunday when I mentioned things like the pool to him, he replied, "I want to stay in the house." So once I get home, we'll probably have a low-key day and a half.
Do you have an over-planned/busy summer ahead of you?