Thanks to Minted for collaborating on this post! As always, opinions are my own.
Before we get into why I love Minted, I wanted to share their Cyber Monday sale! You can save 25% and get free shipping with the code CM2018. If you have your photos ready, save on your cards before Tuesday, 11/27 at noon EST!
Guess who has her Christmas cards printed, in hand and ready to go? That would be THIS GIRL right here! I used Minted again this year, and I've actually had our cards in hand for a few weeks. My setback has been getting to the post office (but no worries. As of this posting, stamps have been purchased and cards are in the mailbox.) I've used a few different companies for our holiday cards over the years, but I've come back to Minted multiple times. And there's one huge reason I love Minted holiday cards – quality. I love looking at our previous cards and even have some of the framed on my desk at work. They're just so pretty!
(Last year's card. I still love it!)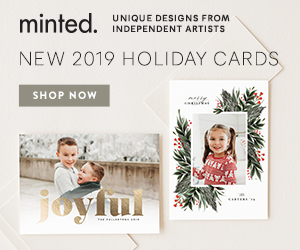 What I'm loving about Minted this year:
Free recipient addresses! I did not have my stuff together last year to upload a spreadsheet, so this year I transferred everything to spreadsheet and I was able to upload to Minted – and they printed most of my addresses for me! There are a few addresses I didn't have, so I'll write those, but this was such a time-saver and game changer. I think the envelopes look so pretty with the recipient's information.
The rose gold foil. I did a foil last year, but I didn't use as many cards. I remember looking at this photo, but last year's cards had more navy in our outfits and looked better with a different design. I remember thinking a few years ago that the foil wasn't necessary, but I think it adds a fun and beautiful touch to the cards.
So many photos! We had our family photos taken at the end of August, and I've been using a few of the photos here and there for canvas prints and other items, but I was able to add several more photos to our cards – and I could have added more. I went with multiple solo photos of the kids, a joint family photo and a sibling shot, all so I could also add Chloe to our card. I try to add Chloe as often as possible because she's such a big part of our family.
I was just looking at their site again and realized they have vellum overlay holiday cards and I'm brainstorming for next year.
With Black Friday and Cyber Monday coming up, many sites will be running various sales on holiday cards. Be sure to check out Minted for their updated sales and get in on the holiday card fun!
Do you send holiday cards? We've been sending photo cards since we were married….so this is our 11th photo card!