A random list for a random Monday.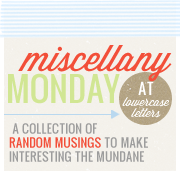 There are three more days until we (I) launch the new site at work. Scary. It's close to being done, but there are so many things that have to be done after the launch, because they don't work on the development side. Just have to trust the support folks. I have a hard time doing that….
I'm exhausted. I fell asleep around 7 tonight, woke up at 8, and I'm ready to go to bed. Hope I can sleep through the night.
We have 3 or 4 restaurant.com coupons to use – and I bought another one tonight. That's a lot of eating out. At least it's cheap.
I'm going to see Joshua Radin this weekend. This winter weather had better stay away. I will not be a happy camper if snow shows up on Friday or Saturday.
I posted a picture of a cat toy on my photo blog tonight. Lame, right? See the note above where I'm exhausted. This toy, though, is top priority for Chloe. We have extra fishing poles because she destroys them after a few months, and we're so afraid that the company will discontinue them. I guess we're all obsessed with the fish.
I need to plan a trip. Badly. To somewhere warm.