My random tidbits today.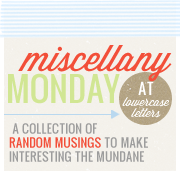 1. Dill pickle cashews are surprisingly great. We found them (on clearance, of course) at Target this weekend. I heart them. A lot.
2. I miss Oliver a ton. It's getting easier, but for the first week, it was hard walking Sophie and not the dog duo. Even some of our neighbors have noticed Oliver's absence.
3. I don't think we have any trips planned for September (except for a work trip the husband is taking.) We do, however, have a lot planned in October. A trip to NY for me, our anniversary (and possibly a weekend away) and family coming into town. I guess I should use September to rest?
4. I'm looking forward to a long weekend coming in just a few days! My in-laws are coming to visit, and we have some fun things planned (like the Apple Festival, which I've never attended.)
5. I said something pretty funny at a Weight Watchers meeting today, which I may or may not share on here. I'm really more honest than I should be sometimes, and speak without thinking. I need to work on it.
6. I'm doing a giveaway for a bag that I made over the weekend. Be sure you check out this link….and comment!