I've seen Nicole take part in this and it seemed like a good excuse time to pull out a list of everything we've done in the past week.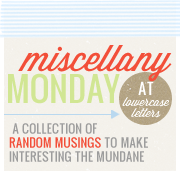 So here goes.
1. I can't remember half of what we did this weekend. That's how busy we've been for the past few weeks.
2. I do remember I went to a Fourth of July part on Saturday (the third.) As I was leaving, I tripped near my car. I happened to be my on phone, and it went flying, landing under my car. I cracked the screen and now my beloved phone is dying a slow death. It really makes me sad, which makes me realize I shouldn't *love* technology as much as I do.
3. I bought a lot of remnant fabric yesterday at Hancock Fabrics. 75 percent off. I couldn't beat the prices. I even found some really great eyelet fabric. I've been dying to buy an eyelet dress, but I can't shell out $400 for a simple shift dress. And I am a few inches shy of making my own dress, but I think I might go for it. This pattern is exactly what I'm looking for.
4. We're leaving for Savannah this weekend. I'm not prepared. We don't know what we're going to do once we get there….except maybe sleep.
5. I cut fabric to make an ottoman today. It wasn't until I had the pieces cut out, that I realized just how large 24 inches really is. That's going to be one large ottoman.
6. I've been planning a baby shower for a friend. I'm really excited about all of the pieces that I've thought of (with the guidance of a friend). I can't wait to share everything with you, but I need to keep it as secretive as possible…until July 31. I dropped the invitations in the mailbox today.
7. I have yet to take the final exam for the online course I'm taking. I have this week to do it. Maybe I should do that tonight?
8. I really want a new deck on the back of our house. Anyone want to come build one for us? For free? Yeah, I didn't think so.
9. Chloe has been SO affectionate lately. I think she is afraid we're going to leave her alone again. Sadly, we'll be leaving her for one more week this summer, and then the traveling is over for a while. Poor, sweet kitty. At least we have friends and family who look after her.