I'm jumping in on Miscellany Monday again.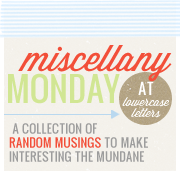 1. I ran 4 miles tonight. It felt awesome. Well, not really, because I can't run well after dinner or in the heat, but it was better than the night I ran after eating a steak dinner. So it was a success.
2. Work was a waste for me today. I hate Mondays after a week out of the office. I dealt with hundreds of emails, most of which were questions I had already answered over and over again.
3. I'm considering taking a cake decorating class next month. AC Moore has their classes at 40% off, and it falls on a Monday, which is better than my last attempt (which they canceled, and were supposed to take place on Tuesday nights.)
4. I also got approval to take the intermediate programming class, following-up on the one I just completed. I should register tonight, but I am dragging my feet. IT would be perfect timing, as the husband has an extended work trip and trainings over the coming weeks, so it wouldn't take away so much time from us….
5. My dad and stepmom are in Hawaii right now. I'm extremely jealous.
6. I'm going to go eat ice cream. I ran 4 miles. I deserve it, right?