It's Monday! And I have so many things in my head.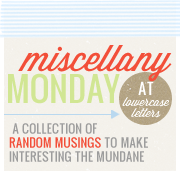 We had such a good weekend. The weather was perfect (mid- to upper-60s both days) and we spent as much time as possible outside.

I started a few plants in small containers yesterday (and re-potted a couple of plants that were getting too big.) My goal is to grow many herbs this summer so we can dehydrate them. I'm so tired of buying rosemary for over $5 a jar.
We all have a start-of-spring cold. I thought it might be allergies, but nope. All three of us have it. And it is not good.
I finally asked my chiropractor about my running injury. While it's 70 degrees today, I will not be running. More on the injury tomorrow when I update on my training this week. I probably won't be running tomorrow either. Insert major sad face.
Several things at work are stressing me out. I do not like to stress about work, and it bothers me that I'm letting things bother me. Hoping it all works itself out soon.
I'm really excited about our weekend in DC in less than 3 weeks. I think we're going to really enjoy it – and the race is going to be a major highlight!
My two runner friends and I are all injured. We're going to make the best of the Nike half marathon…just injured.
—
linking up to Miscellany Monday today. I think this post was about as random as I could get.