I'm joining up with Sisterhood of the Shrinking Jeans again this year (I joined them before the pregnancy of 2011 and had decent results, and a great time.) I'm a day late in posting, but that's to be expected. I'm a busy girl being pulled in about 10 million directions.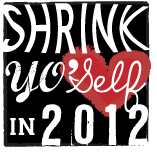 I can't make too many goals this year. I won't achieve them. So I came up with a few that I thought I could meet.
My healthy goals for this challenge/year:
–Get back to pre-pregnancy weight. I'm 8-9 pounds away from that.
–Make time to exercise.
–Train for a half marathon, possibly two. (One is doable – and I've signed up to run one on April 1!)
–Eat less junk food. I developed a candy bar addiction while I was pregnant (and a milkshake addiction, but I dropped that when I cut dairy from my diet.) now that I'm back at work, I find myself at the vending machines, so I am trying to cut that out.
Where I am for week 1:
We've had house guests for the past week, and it's been COLD, but I did manage a 36-minute walk yesterday. I have running plans on Saturday, and I'm hoping I can do some sort of workout this evening.
On the food front, I've been better the past two days. I've brought a lot of fruit, already cut up, to work. And granola bars have been good for me. They're easy, and I can get my chocolate fix through them. Oh, and I've been a water-drinking machine lately. I have been getting 32 ounces in before 9 a.m. and usually end the day with more than 100 ounces.
I weighed last week, and then again yesterday and I'm down .6 pounds. I'll take it.