It's check-in time with Sisterhood of the Shrinking Jeans.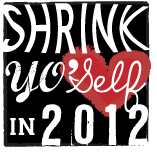 Last week, we had a challenge of getting in exercise. I managed to do it. I took several long walks with the husband and baby – two walks some days – and I ran on Saturday. It was only 3 miles, but I hurt for days, so that counts for something…right?
I'm back in training mode. I've signed up for a half marathon (on April 1) and all of my longer runs are written down in my planner. My cross-training will be somewhat easy during the week – I plan on doing DVD workouts that I have. They're the right length of time and I can do them after the baby goes to bed.
Where I am for week 2:
On the food front, I'm doing better. I'm trying to watch my eating-out and the junk food is mostly gone from our house. House guests are gone, so the eating out is a little less tempting (we always like to take people out when they're visiting because we have such great restaurants.)
I've already touched on exercise. It's going pretty well. Hopefully I can keep it up!
I'm down .2 pounds this week – 0.8 pounds overall. Not bad. Not bad, at all.