It's another check-in time with Sisterhood of the Shrinking Jeans.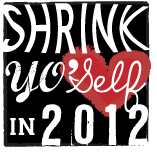 Last week, we were challenged to keep up the exercise. And I totally did it.
I ran 3.5 miles on Saturday (was supposed to be 4, but I was on a treadmill and it was no fun.) I did a lot of walking, some 30-day shred, and I counted raking leaves as exercise on Monday. Given how sore I was the next day, I'd say it really was exercise.
The other thing I did this week was rejoin Weight Watchers. For real. I attended a meeting on Saturday, paid my fee (I am a Lifetime member, so I only pay the weekly fee once a month until I hit my goal weight again) and the meeting happened to be about meal planning, something we love to do.
I then went home and planned our meals for the week. The difference this week was how I put the points next to each dinner. So there's no question. I know each morning how many points I'm working with at the end of the day, so I can plan the rest of my day accordingly.
Where I am for week 2:
And how did I do this week? Pretty good, if you ask me. I'm down 1.8 pounds from last week. For a total of 2.6 pounds.
On one hand, that's a great loss. On the other hand, I don't want to lose too much too quickly since I'm a nursing mom. So I need to find a good balance. I'd like to lose approximately a pound (or just slightly less) per week. We have 6 weeks left in this challenge. I'm just over 6 pounds from my pre-pregnancy weight. My goal is to be rid of at least 4 of the pounds by the end of February. Let's see if I can keep this up (and still keep feeding the baby what he needs!)