It's another check-in time with Sisterhood of the Shrinking Jeans.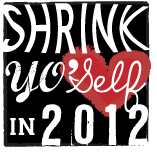 I'm keeping up with the exercise, for the most part. Early this month, I wrote all of my workouts that I *should* do, in order to train for the half marathon. The only things that I'm really keeping up with are the rest days and the weekend long(ish) run. I guess I'm technically keeping up with the cross-training, when I throw the 30-day Shred workout into the mix. And I have been doing that, just not quite as often as I would like. (But, hello…I have a child who hasn't slept his normal long stretches in a week.)
All that said, I have been doing pretty well on the Weight Watchers plan. Tracking has been easier this time around.
Half marathon training:
Figured I'd throw this into this post, rather creating a separate one (for now.) This past weekend, I walked with the baby (in his jogging stroller) just over a mile, before running 3.5 miles. I was supposed to run 4 miles, but I thought that the mile prior to the run kind of made up for it. This weekend I'm on track to run 5 miles. It's going to be a very slow 5 miles.
Where I am for week 4:
I'm down 1.2 pounds from last week. A total loss of 3.8 pounds for this month. I have to attribute this week's loss to mostly the eating, or lack thereof.