This post may include affiliate links and I may earn commission if you make a purchase through these links.
It's Wednesday, and that means it's check-in time with Sisterhood of the Shrinking Jeans.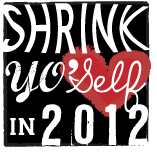 This week I was a little lot better with the food choices. We did a lot more cooking, and even when we ordered out, I got steamed chicken and vegetables. I've eaten a lot more salads this week too. (I found this great salad dressing recipe and I LOVE it so much I could eat salad for every meal!)
Exercise is sthttp://www.blogger.com/img/blank.gifill tough. I find myself having to break up a 30-minute workout because the baby needs attention. The weather is (finally) starting to turn colder, making our evening walks more difficult. And I thought I'd have time this week to workout, but I've had so many other things going on. That said, I'm planning on getting my 6-miler done on Friday while the baby is at daycare. It's supposed to stay in the 30s on Saturday. No fun.
Half marathon training:
I ran 5 miles again on Saturday. It was even better than the previous week! I ran with a different friend for four miles, and did one mile by myself. I took a minute off my time compared to the previous week! And the soreness didn't stick around as long – a day, maybe two? Much better.
I'm pretty sure I'll be doing the Galloway method for the half marathon – walking at the top of every mile. I just don't think I'm going to be in "racing shape" come April 1. I'll be able to take on a half marathon, but I'm unsure of my speed skills.
Where I am for week 6:
I'm down 1.4 pounds from last week. A total loss of 5 pounds for this month. Four more pounds and I'll be back at pre-pregnancy weight! 🙂